2018 PSDG: Fantasy Impact - Pass-Catching RBs (Preview)
John Cooney - 7/27/2018
Running backs that possess the ability and the opportunity to get into pass patterns outside, upfield or in space provide fantasy football owners a chance for creative point accumulation each and every week. Pass catching backs owning speed, elusiveness and a reasonably expanded route tree are potentially lethal fantasy football weapons as they not only create additional points but can do so in a hurry, requiring less touches. Explosive receiving halfbacks can change the outcome of a fantasy football contest on a single swing pass, screen set up, shuttle toss or an opportune wheel route. The beauty of the "play making" back is that they do not need a higher volume of carries or an abundance of touches to turn a FFB loss into an improbable, come-from-behind victory. Extreme YAC-getters like David Johnson, Alvin Kamara and Tarik Cohen have the game-breaking speed and/or elusiveness matched with wide receiver-like...
This is a Premium FF Mastermind Article.
You must be logged in to view it.
Back to top of page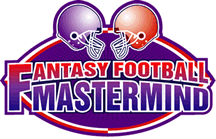 The Definitive Fantasy Information Service
Mastermind Moment
2019 Madness NFL Rookie Draft Reference Guide
Monday, April 15th, 2019
Premium Pro Bowl and Super Bowl Package Subscribers take note. The time has come. The 2019 Madness NFL Rookie Draft Reference Guide has been released for your viewing pleasure. This
Read the Full Mastermind Moment