2018 PSDG: Busted Wedge - Kick and Punt Return Specialists For Points (Preview)
John Cooney - 7/27/2018
The National Football League has revamped the kick off rules in an effort to lower the odds of injuries. There is no doubt that the new rules will have an effect on kick return results. In plain English, the rule changes are:
FOR THE KICKING TEAM:
Players cannot line up more than 1-yard behind the teed-up ball, usually the 35-yard line, pretty much cutting out a running start.
There must be a symmetrical 5 players on each side of the teed-up football.
At least 2 players on each side must be outside the numbers
At least 2 players must be between the numbers and the hash marks.
FOR THE RETURN TEAM:
There must be at least 8 players inside the "setup zone", which is between the opposing 45 and the return team's 40...

This is a Premium FF Mastermind Article.
You must be logged in to view it.

Back to top of page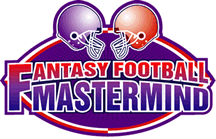 The Definitive Fantasy Information Service