2018 PSDG: Mastermind IDP Sleepers, Creepers, & Impact Rookies (Preview)
Steve Yerger - 8/24/2018
Let's look at some sleepers, creepers and impact rookies for Individual Defensive Players (IDPs). The following sleepers are players at DL, LB, and DB that you can pick up later in your draft who have a very good chance of outperforming their current ranking. Creepers are players that will be drafted much too early and are likely to disappoint. The impact rookies are self-explanatory, but you should use caution, as these guys have more value in dynasty league drafts.
DEFENSIVE LINEMAN
SLEEPERS
1. Bruce Irvin, Oakland - I am always interested in former OLBs who get reclassified to DE when their team switches from a 3-4 to a 4-3 alignment. Irvin would have been just outside the top 10 last season if he had been a DL, and while his stats may take a hit with his hand in...
This is a Premium FF Mastermind Article.
You must be logged in to view it.
Back to top of page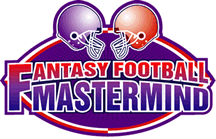 The Definitive Fantasy Information Service
Mastermind Moment
2019 Madness NFL Rookie Draft Reference Guide
Monday, April 15th, 2019
Premium Pro Bowl and Super Bowl Package Subscribers take note. The time has come. The 2019 Madness NFL Rookie Draft Reference Guide has been released for your viewing pleasure. This
Read the Full Mastermind Moment