2018 PSDG: The Ten Demandments (Preview)
By God (as told by John Holler) - 6/29/2018
"In the beginning, He that is God created fantasy football. He looked and said it was good." Genesis 17:52
For many years, He has parted the clouds and imparted wisdom to those who serve as his vessel to convey His message. A couple thousand years ago, it Moses who came down from the mountain with the Ten Commandments – a guide to life that some, but far from all, still live by.
It may seem a tad sacrilegious for Him to have chosen John to impart His wisdom – some feel it is akin to a talking donkey or a squirrel that water skis – but, regardless of how improbable to the delivery point of His message is, the wisdom He wants you to know is sincere. Obey these simple rules and...
This is a Premium FF Mastermind Article.
You must be logged in to view it.
Back to top of page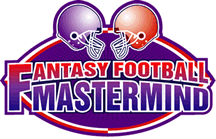 The Definitive Fantasy Information Service
Mastermind Moment
2019 Madness NFL Rookie Draft Reference Guide
Monday, April 15th, 2019
Premium Pro Bowl and Super Bowl Package Subscribers take note. The time has come. The 2019 Madness NFL Rookie Draft Reference Guide has been released for your viewing pleasure. This
Read the Full Mastermind Moment