2018 PSDG: Handcuffing 2018: Links to Success (Preview)
John Cooney - 6/29/2018
Winning consistently in fantasy football happens by creating and following a sound philosophy, then altering the process annually to stay a step ahead of the competition. The game, on the actual field of play and in the virtual one, is ever-evolving and position values change every couple of seasons. In the past, a fantasy GM targeted and maneuvered the draft to nail down a top-flight running back. A feature back was a "must-have" with any first draft selection. Running backs ruled the first two rounds of practically any fantasy draft. With the influx of fresh college offensive playbook planners utilizing spread, pistol, zone, no-huddle, RPO and other exotic and creative concepts, the traditional workhorse ball carrier has mostly faded from the gridiron scene. The ground-pounder has been replaced by the quick and shifty darter as well as the slick routing pass-catching tailback.
...
This is a Premium FF Mastermind Article.
You must be logged in to view it.
Back to top of page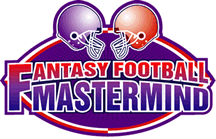 The Definitive Fantasy Information Service
Mastermind Moment
UPDATED: NFL Game Matchup Analysis & Mastermind Moment: The Real Work Begins!
Sunday, September 8th, 2019
OK, the big day has come and gone; your draft is over. You assembled an impressive roster thanks to a lot of time, energy and research dedicated to that task.
Read the Full Mastermind Moment