2018 FanEx FAD (Fantasy Analysis Draft) (Preview)
Michael Nazarek/Chris Rito - 6/29/2018 - COMPLETED
The 2018 FanEx FAD (FanEx Analysis Draft) is COMPLETE! FanEx is the Fantasy Experts league, one of the original fantasy experts leagues started back in 1996. FFMastermind.com Colts scout and fantasy writer Chris Rito and I partner together to represent our web site in the league. The FAD is a best-ball league draft meant to offer analysis behind each fantasy pick. It's a 12-team draft with performance scoring rules including PPR (Point-Per-Reception). We are drafting out of the 1st slot in a serpentine draft going 20 rounds. Click the link below to follow my progress.
FAD URL - http://www61.myfantasyleague.com/2018/options?L=30771&O=17
FFMastermind.com Draft Pick Analysis:
1.01 - RB Todd Gurley, LAR
With the first pick in the draft, you cannot afford to be wrong...
This is a Premium FF Mastermind Article.
You must be logged in to view it.
Back to top of page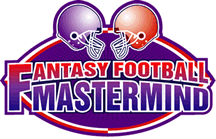 The Definitive Fantasy Information Service
Mastermind Moment
2019 Madness NFL Rookie Draft Reference Guide
Monday, April 15th, 2019
Premium Pro Bowl and Super Bowl Package Subscribers take note. The time has come. The 2019 Madness NFL Rookie Draft Reference Guide has been released for your viewing pleasure. This
Read the Full Mastermind Moment