2018 Rookie Mini-Camp Update for May (Preview)
John Holler - 5/30/2018
The rookie minicamps are over and the minicamp/OTA season is upon us and the Class of 2018 is starting to settle in to their new spots on team rosters.
Here is a quick look at what is being said locally for the NFL's 32 teams for their new component pieces for their offenses and who is expected to make an immediate impact and who might have to work his way through the depth chart to make a meaningful impact.
Arizona Cardinals – QB Josh Rosen was quick to let everyone in front of him that they made a mistake, but Cardinals head coach Bruce Arians said last week that Rosen will be given every opportunity to beat out veteran Sam Bradford for the Week 1 starting job. WR Christian Kirk has received early comparisons to Randall Cobb in his play style and the impact...
This is a Premium FF Mastermind Article.
You must be logged in to view it.
Back to top of page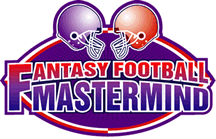 The Definitive Fantasy Information Service
Mastermind Moment
2019 Madness NFL Rookie Draft Reference Guide
Monday, April 15th, 2019
Premium Pro Bowl and Super Bowl Package Subscribers take note. The time has come. The 2019 Madness NFL Rookie Draft Reference Guide has been released for your viewing pleasure. This
Read the Full Mastermind Moment