2018 FF Index Magazine Non-PPR Mock Draft Pick Analysis (Preview)
Michael Nazarek - 5/16/2018 - COMPLETED
The annual Fantasy Football Index magazine Mock Draft was completed via online draft on Tuesday, May 15, 2018. The top 10 experts from last year's magazine in terms of the experts poll rankings are invited, along with two FF Index readers. I drafted out of the #10 slot in this draft. This mock is a best-ball league draft and appears in full in the FF Index magazine, due out in July. It's a 12-team draft with performance scoring rules NOT including PPR (Point-Per-Reception). Below, you will find my picks along with fantasy analysis for each pick of all 22 rounds. FF Index asked me not to post the entire draft, but I can offer my pick analysis with reasoning behind my thinking. Let's get right to it...
Scoring system is as follows:
1 point for every 10 rushing/receiving yards
1 point for every 20...
This is a Premium FF Mastermind Article.
You must be logged in to view it.
Back to top of page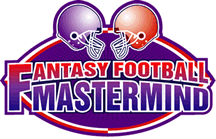 The Definitive Fantasy Information Service