2018 May Short/Term/Long-Term Rookie Rankings (Preview)
John Holler - 5/13/2018
The 2018 draft is over and now we have seen the top college fantasy players matched up with teams. It's an inexact science to match up players with the offense they're coming to, but those stepping into ideal situations for quick development can push their way past those who may be in a more difficult situation to start their careers
There are two ways to look at rookies coming into the league in terms of assigning a rank to them. The first is assessing who will make the earliest impact on their new teams and the second is looking at the long-term potential of players, which is why the quarterback class of 2018 has a comparatively low immediate ranking compared to other positions, but much better when viewed in terms of dynasty leagues because there could be five starters in this group a year or two from now...
This is a Premium FF Mastermind Article.
You must be logged in to view it.
Back to top of page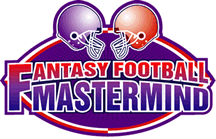 The Definitive Fantasy Information Service
Mastermind Moment
Free 2018 Pre-Season Draft Guide Preview
Friday, June 29th, 2018
Our patrons always ask for us to release a preview of our annual summer fantasy football blockbuster Pre-Season Draft Guide. Well, YOU asked for it, YOU got it!
Read the Full Mastermind Moment