2018 Rookie Draft Review (Preview)
John Holler - 5/6/2018
As is always the case, if you believe what those at the top of the NFL's 32 teams, each of them are the smartest guys in the room. But, most of them will be proved wrong by history.
But, for now, all of the fantasy draft picks made are expected to have a role, especially those rookie QBs that are expected to become starters sooner than later.
Here is our look at how teams improved their stock heading into the 2018 season and the anticipated short-term impact that can be expected out of this year's draft classes to the teams that selected them.
Arizona Cardinals – The Cardinals made on of the biggest splashes in the draft by trading up to the 10th pick to take quarterback Josh Rosen. Rosen was viewed as the most NFL-ready QB for Week 1 of the...
This is a Premium FF Mastermind Article.
You must be logged in to view it.
Back to top of page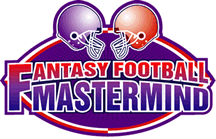 The Definitive Fantasy Information Service
Mastermind Moment
2019 Madness NFL Rookie Draft Reference Guide
Monday, April 15th, 2019
Premium Pro Bowl and Super Bowl Package Subscribers take note. The time has come. The 2019 Madness NFL Rookie Draft Reference Guide has been released for your viewing pleasure. This
Read the Full Mastermind Moment