2018 Mock Rookie Draft - Version IV (Preview)
John Holler - 4/24/2018
OVERVIEW: Over the last several years, trading in the first round, especially for quarterbacks, has become the new normal – to the point that when you try to project a mock draft, you feel almost beholden to give credence to the possibility that a team is going to trade up to get one of the quarterbacks who is coveted as the potential next face of the franchise. We could see four quarterbacks go in the first five picks – for better or worse – and even we have succumbed to the temptation to predict a blockbuster trade and what the results would be for the Giants.
1. Cleveland – Sam Darnold, QB, USC. The Browns have bypassed taking quarterbacks when they had the chance to take some and missed out on some pretty good ones. However, with two of the top four picks, it seemed like QB...
This is a Premium FF Mastermind Article.
You must be logged in to view it.
Back to top of page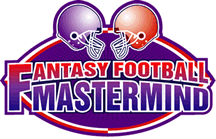 The Definitive Fantasy Information Service
Mastermind Moment
2019 Madness NFL Rookie Draft Reference Guide
Monday, April 15th, 2019
Premium Pro Bowl and Super Bowl Package Subscribers take note. The time has come. The 2019 Madness NFL Rookie Draft Reference Guide has been released for your viewing pleasure. This
Read the Full Mastermind Moment