2018 March Rookie Player Rankings (Preview)
John Holler - 3/23/2018
The free agency spending spree has started to die down and, as we sit a month away from the draft, the focus is turning to the draft. The clear implication now is that quarterbacks are going to be taken with the first three picks after the Jets gave up a trio of second round picks to move up three spots in the first round and flip-flop with Indianapolis. There is also a growing belief that Buffalo is going to trade its two first-round picks and a first-rounder next year to move up into the Giants' No. 2 spot.
There have been some changes to our rankings as the results of the Combine have raised and lowered the stock of some players,
QUARTERBACK
1. Josh Allen, Wyoming
2. Sam Darnold, USC
3. Josh Rosen, UCLA
4. Baker Mayfield, Oklahoma
5. Lamar Jackson, Louisville
6. Mason...
This is a Premium FF Mastermind Article.
You must be logged in to view it.
Back to top of page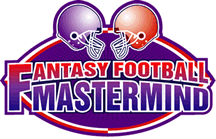 The Definitive Fantasy Information Service
Mastermind Moment
2019 Madness NFL Rookie Draft Reference Guide
Monday, April 15th, 2019
Premium Pro Bowl and Super Bowl Package Subscribers take note. The time has come. The 2019 Madness NFL Rookie Draft Reference Guide has been released for your viewing pleasure. This
Read the Full Mastermind Moment