2018 Mock Rookie Draft - Version II (Preview)
John Holler - 3/14/2018
OVERVIEW: The ascent up the draft of Penn State running back Saquon Barkley is going to be the talking point among the top four picks after a dominating performance at the Combine. In this incarnation of the mock draft, we see Barkley jumping all the way up to No. 3 and quarterbacks setting in to some of the top spots of the draft, despite not being worthy of being selected there based purely on talent.
1. Cleveland – Josh Allen, QB, Wyoming. The Browns traded for Tyrod Taylor, which allows them to have a veteran QB to bridge the learning curve. Allen has drawn comparisons to Ben Roethlisberger and, considering Big Ben has more wins in Cleveland than any QB in new-Browns history, having someone who can be a steadying offensive piece for a decade would get the Browns started in the right direction. Teams...
This is a Premium FF Mastermind Article.
You must be logged in to view it.
Back to top of page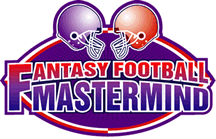 The Definitive Fantasy Information Service
Mastermind Moment
Free 2019 Pre-Season Draft Guide Preview
Monday, July 1st, 2019
Our patrons always ask for us to release a preview of our annual summer fantasy football blockbuster Pre-Season Draft Guide. Well, YOU asked for it, YOU got it!
Read the Full Mastermind Moment