2018 Mock Rookie Draft - Version II (Preview)
John Holler - 3/14/2018
OVERVIEW: The ascent up the draft of Penn State running back Saquon Barkley is going to be the talking point among the top four picks after a dominating performance at the Combine. In this incarnation of the mock draft, we see Barkley jumping all the way up to No. 3 and quarterbacks setting in to some of the top spots of the draft, despite not being worthy of being selected there based purely on talent.
1. Cleveland – Josh Allen, QB, Wyoming. The Browns traded for Tyrod Taylor, which allows them to have a veteran QB to bridge the learning curve. Allen has drawn comparisons to Ben Roethlisberger and, considering Big Ben has more wins in Cleveland than any QB in new-Browns history, having someone who can be a steadying offensive piece for a decade would get the Browns started in the right direction. Teams...
This is a Premium FF Mastermind Article.
You must be logged in to view it.
Back to top of page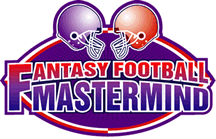 The Definitive Fantasy Information Service
Mastermind Moment
2020 Madness NFL Rookie Draft Reference Guide
Monday, April 13th, 2020
Premium Pro Bowl and Super Bowl Package Subscribers take note. The time has come. The 2020 Madness NFL Rookie Draft Reference Guide has been released for your viewing pleasure. This
Read the Full Mastermind Moment