2018 NFL Team (Rookie) Needs (Preview)
John Holler - 2/9/2018
This is the time of year when NFL teams are taking a long, hard look at themselves as to where they excelled and where they struggled from the previous season. With pending free agency, retirements and cap-related salary dumps, rosters can change significantly from one year to the next.
While many teams will use free agency to address some of their pressing needs, the draft remains the currency of the NFL – the ability to add young talent at team-friendly prices that, if they pan out, become the foundation blocks of a franchise.
For the purposes of this story, we take a look at the team needs for all 32 teams and why some needs are more pressing than others. Some of these will be decided in free agency, while others will be left to the draft to fill, but make no mistake about it...
This is a Premium FF Mastermind Article.
You must be logged in to view it.
Back to top of page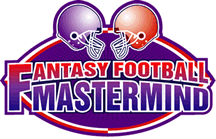 The Definitive Fantasy Information Service
Mastermind Moment
2019 Madness NFL Rookie Draft Reference Guide
Monday, April 15th, 2019
Premium Pro Bowl and Super Bowl Package Subscribers take note. The time has come. The 2019 Madness NFL Rookie Draft Reference Guide has been released for your viewing pleasure. This
Read the Full Mastermind Moment