Week #17: The Market (Preview)
Michael Nazarek - 12/26/2017
This is it! The final "Market" of the 2016 season. If you are reading this section this week, you are either in your Fantasy Bowl or in a fight to win it all in a Total Points league. I sincerely hope you found some of my weekly analysis found on these pages helpful to you in your quest for a Championship. If you have any last minute questions, please don't hesitate to e-mail me HERE. We'd love to hear about your story and would very much like to post it as a testimonial for the site. Good luck this week and let's see what comes to mind for week #17...
THE QUARTERBACKS
-- QB's to Consider for a Fantasy Start --
The following QBs have decent match-ups this week and deserve a look by...
This is a Premium FF Mastermind Article.
You must be logged in to view it.
Back to top of page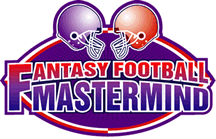 The Definitive Fantasy Information Service
Mastermind Moment
Week #4: The Market <--- Check It Out FREE!
Saturday, October 6th, 2018
Wondering why FFMastermind.com has been online for 23 YEARS? The proof is in the premium MARKET feature part of the In-Season Weekly Newsletter. Check out Week #4's Market
Read the Full Mastermind Moment