Week #17: Acquiring & Trading Targets (Preview)
Michael Nazarek - 12/26/2017
In this feature, I'll do my best to offer 1-2 players (QB, RB, WR, & perhaps a TE) to target to acquire via trade as well as one player to trade away. I realize it's late in the season, but I'll assume your trading deadline hasn't occurred yet or that you don't have one or you are in a keeper/dynasty league…
The following list from last week still apply for this week...
-- Look to Acquire --
QB Dak Prescott, DAL - With Zeke suspended, fantasy owners can easily forget how good this guy is when he actually has a good running game. With Zeke, Prescott averaged 24.3 fantasy points per week, while he production plummeted down to only 15.8 fantasy points with Zeke out. Acquire him now before his owner realizes how good he is with Zeke in the lineup!
...
This is a Premium FF Mastermind Article.
You must be logged in to view it.
Back to top of page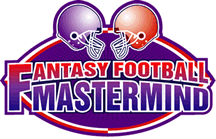 The Definitive Fantasy Information Service
Mastermind Moment
Free 2018 Pre-Season Draft Guide Preview
Friday, June 29th, 2018
Our patrons always ask for us to release a preview of our annual summer fantasy football blockbuster Pre-Season Draft Guide. Well, YOU asked for it, YOU got it!
Read the Full Mastermind Moment