Week #14: Acquiring & Trading Targets (Preview)
Michael Nazarek - 12/5/2017
In this feature, I'll do my best to offer 1-3 players (QB, RB, WR, & perhaps a TE) to target to acquire via trade as well as one player to trade away…
-- Look to Acquire --
QB Aaron Rodgers, GB - No change here. Perhaps his owner is out of the playoff hunt in your league. If that is the case and you can still makes trades, then look to acquire him. He's on track to return in week #15, which is the semi-finals of most fantasy leagues. Yes, he will produce in both Week #15 and #16 if healthy!
RB Kareem Hunt, KC - I'm still sticking with this advice. He hasn't scored since week #3, but the schedule is just too good to pass up trying to acquire him at a reasonable cost. He plays vs. OAK, vs. LAC, and vs. MIA...
This is a Premium FF Mastermind Article.
You must be logged in to view it.
Back to top of page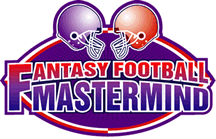 The Definitive Fantasy Information Service
Mastermind Moment
Free 2018 Pre-Season Draft Guide Preview
Friday, June 29th, 2018
Our patrons always ask for us to release a preview of our annual summer fantasy football blockbuster Pre-Season Draft Guide. Well, YOU asked for it, YOU got it!
Read the Full Mastermind Moment