Week #14: Early Week Picks to Click/Flick (Preview)
Michael Nazarek - 12/4/2017
This section expresses my gut feeling with regard to which NFL players I feel will have good days and those that will have bad ones. I remind everyone to take these picks with a grain of salt. They are certainly NOT meant to override our weekly rankings! They are based upon past performances as well as this week's match-up. Last week, many of the clicks listed didn't come through with big games. Sometimes that happens, as match-ups aren't everything. On the flip side, flick TE Cameron Brate found himself relevant again, thanks to QB Jameis Winston. Sometimes all it takes is the right QB to get a struggling tight end back on his feet. This week, click QB Derek Carr gets his groove back against a sorry Chiefs secondary when click WR Michael Crabtree returns from suspension. If WR Amari Cooper (concussion/ankle) also returns, it just makes it that...
This is a Premium FF Mastermind Article.
You must be logged in to view it.
Back to top of page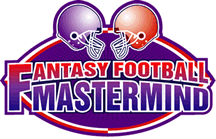 The Definitive Fantasy Information Service
Mastermind Moment
Week #15: The Inside Slant <--- Check It Out FREE!
Tuesday, December 11th, 2018
Wondering why FFMastermind.com has been online for 23 YEARS? Some of the proof is in the premium INSIDE SLANT feature part of the In-Season Weekly Newsletter. Check out
Read the Full Mastermind Moment