Week #11: Early Week Picks to Click/Flick (Preview)
Michael Nazarek - 11/13/2017
This section expresses my gut feeling with regard to which NFL players I feel will have good days and those that will have bad ones. I remind everyone to take these picks with a grain of salt. They are certainly NOT meant to override our weekly rankings! They are based upon past performances as well as this week's match-up. Last week, click WR Robby Anderson scored for the fourth game in a row! Start him if you own him... NEXT week. His team is on a BYE this week. Meanwhile, CAUTION PLAY WR Keenan Allen produced a very mediocre (4-48) stat line. Did you have the guts to sit him? This week, look for click RB Kareem Hunt to score his first TD since week #3 against the sorry Giants run defense. On the flip side, this week's CAUTON PLAY goes to flick WR A.J. Green playing at...
This is a Premium FF Mastermind Article.
You must be logged in to view it.
Back to top of page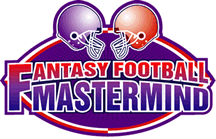 The Definitive Fantasy Information Service
Mastermind Moment
Free 2018 Pre-Season Draft Guide Preview
Friday, June 29th, 2018
Our patrons always ask for us to release a preview of our annual summer fantasy football blockbuster Pre-Season Draft Guide. Well, YOU asked for it, YOU got it!
Read the Full Mastermind Moment