2017 Dynasty Mid-Season Fantasy Player Rankings (Preview)
Brent Lathrop - 11/2/2017
Quarterback
The "Old Guys"
If you are out of the race, these are the guys you want to try to trade now before their value evaporates in the next few seasons. Drew Brees isn't putting up the ridiculous numbers he usually does, his name value could bring you something solid in return. His dip in production is mostly related to the Saints actually having an effective running game for once. On the flip side Tom Brady is still a top producer, but he's 40. Maybe he does defy logic and puts together two more great seasons, but the odds are not in his favor. Phillip Rivers and Ben Roethlisberger have become bye week fill-ins, nothing more.
Young Guns
Carson Wentz is the real deal, putting up sick numbers and highlight reel plays on a weekly basis. Safe to say he's going to be pretty good. Dak Prescott has...
This is a Premium FF Mastermind Article.
You must be logged in to view it.
Back to top of page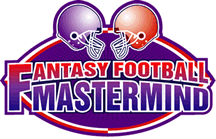 The Definitive Fantasy Information Service
Mastermind Moment
Free 2018 Pre-Season Draft Guide Preview
Friday, June 29th, 2018
Our patrons always ask for us to release a preview of our annual summer fantasy football blockbuster Pre-Season Draft Guide. Well, YOU asked for it, YOU got it!
Read the Full Mastermind Moment