Week #6: The Market (Preview)
Michaedl Nazarek - 10/10/2017
If your team is 2-3 or 3-2, you should be working the waiver wire and talking trades to your advantage to get your team in a position to make a playoff push. Most leagues begin their playoffs in week #13 or #14, meaning we are nearly 40% of the way through the regular season. It's now or never for many teams to whip that roster into shape, so let's get right to it…
THE QUARTERBACKS
-- Carson Wentz Blows Up! --
At the tart of the season, Philadelphia Eagles QB Carson Wentz was viewed simply as a decent fantasy backup. After five games of play, though, that thinking has changed. Wentz currently ranks a top #6 fantasy QB, having produced THREE 24+ point fantasy games. Granted, his three big games came against suspect secondaries, but Wentz is making...
This is a Premium FF Mastermind Article.
You must be logged in to view it.
Back to top of page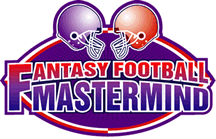 The Definitive Fantasy Information Service
Mastermind Moment
NFL Game Matchup Analysis: The Real Work Begins!
Saturday, September 9th, 2017
OK, the big day has come and gone; your draft is over. You assembled an impressive roster thanks to a lot of time, energy and research dedicated to that task.
Read the Full Mastermind Moment