Week #6: Early Week Picks to Click/Flick (Preview)
Michael Nazarek - 10/9/2017
This section expresses my gut feeling with regard to which NFL players I feel will have good days and those that will have bad ones. I remind everyone to take these picks with a grain of salt. They are certainly NOT meant to override our weekly rankings! They are based upon past performances as well as this week's match-up. Last week, click RB Melvin Gordon blew up for his owners against the winless Giants. Click TE Hunter Henry scored in that game too. On the flip side, flick WR Amari Cooper was limited to just one catch by the Ravens. If you benched him, give yourself a pat on the back! This week, look for click RB Todd Gurley to rebound against the soft Jaguars run defense coming off his worst start of the season. It's a great week to start click WR T.Y. Hilton against the sorry...
This is a Premium FF Mastermind Article.
You must be logged in to view it.
Back to top of page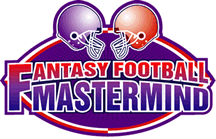 The Definitive Fantasy Information Service
Mastermind Moment
Free 2018 Pre-Season Draft Guide Preview
Friday, June 29th, 2018
Our patrons always ask for us to release a preview of our annual summer fantasy football blockbuster Pre-Season Draft Guide. Well, YOU asked for it, YOU got it!
Read the Full Mastermind Moment