Week #2: Acquiring & Trading Targets (Preview)
Michael Nazarek - 9/12/2017
In this feature, I'll do my best to offer 1-3 players (QB, RB, WR, & perhaps a TE) to target to acquire via trade as well as one player to trade away…
-- Look to Acquire --
QB Russell Wilson, SEA - Wilson was under duress for most of the game against the Packers. He will get more time to pass, and he will rebound, starting this week at home against the 49ers. He is an obvious BUY LOW candidate.
QB Cam Newton, CAR - Newton was rusty last week, but as the weeks progress, his arm will get stronger and more accurate. He's a very interesting BUY LOW candidate at this time.
RB Joe Mixon, CIN - Now is the time to BUY LOW here before his talent wins out, he blows up, and grabs hold of the clear starting job...
This is a Premium FF Mastermind Article.
You must be logged in to view it.
Back to top of page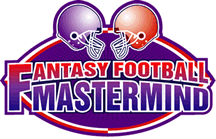 The Definitive Fantasy Information Service
Mastermind Moment
2018 Madness NFL Rookie Draft Reference Guide
Monday, April 16th, 2018
Premium Pro Bowl and Super Bowl Package Subscribers take note. The time has come. The 2018 Madness NFL Rookie Draft Reference Guide has been released for your viewing pleasure. This
Read the Full Mastermind Moment