2017 PSDG: Designing Your Draft Strategy 2017 (Preview)
Chris Rito - 8/24/2017
Publisher's Note from Michael Nazarek: In case you weren't aware, Chris Rito and I won our 5th FanEx title in 2016. As a result of our success, I asked Chris to offer his solid fantasy football draft strategy blueprint for our subscribers to consider. I highly recommend subscribers take the time to read the following article, as it will offer great insight into planning your fantasy football draft strategy for 2017. Of course, I have written the official 2017 Mastermind Draft Plan for your reading pleasure as well. Just remember, Chris and I couldn't have been so successful in FanEx if we hadn't learned to listen to each other and perfect a "give and take" dynamic.
In my oldest league (a local redraft with folks from work), we have an interesting tradition on draft day. We draw numbers on draft day...
This is a Premium FF Mastermind Article.
You must be logged in to view it.
Back to top of page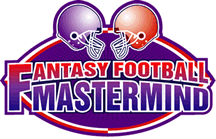 The Definitive Fantasy Information Service