2017 PSDG: Deepest Sleepers: Winning with Losers, Geeks, & Old Farts (Preview)
Eddie Rex - 8/11/2017
Publisher's Note: This article was written before the retirement of WR Anquan Boldin. Thus, you can pull him from this "interesting" list of fantasy candidates.
Lots of players have a bad reputation – too injury-prone, a little ethically compromised, older than graveyard dirt. But that doesn't mean they're a bad pick. The key to your fantasy season? A few players no one else wants.
Everyone loves sleeper picks in fantasy football. Well, I've got a few guys in my arsenal who take that to the extreme. These guys fall asleep during meals. You have to prod them with a stick to wake them up.
Deep sleepers.
And the thing is, they actually will help you win your league. Because no one else wants them, you get them really cheaply. Last year it was Darren Sproles, Jimmy...
This is a Premium FF Mastermind Article.
You must be logged in to view it.
Back to top of page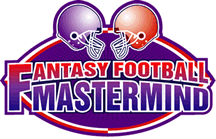 The Definitive Fantasy Information Service