2017 PSDG: Strategies for 2-QB Starter Leagues (Preview)
Dr. Gil Brovar - 8/9/2017
With the NFL becoming more of a passing game, fantasy football leagues have been changing formats. Many leagues are now requiring participants to start 2 QB, not just as a flex but as a starting requirement. This has a major impact on the drafting strategy. While I have written articles on this subject in the past, this issue is much more important now than it was when I started discussing this in the draft guide. I plan to discuss how you should approach a draft with 2 starting QBs as well as leagues that allow for a flex position to be filled by a QB. I will also mention the unusual situation of a 2 QB league that scores 6 points per passing TD. The 6 point passing TD issue was previously discussed, but imagine its impact in a 2 QB league.
The most important thing you...
This is a Premium FF Mastermind Article.
You must be logged in to view it.
Back to top of page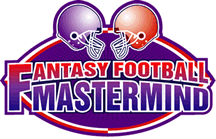 The Definitive Fantasy Information Service
Mastermind Moment
Free 2018 Pre-Season Draft Guide Preview
Friday, June 29th, 2018
Our patrons always ask for us to release a preview of our annual summer fantasy football blockbuster Pre-Season Draft Guide. Well, YOU asked for it, YOU got it!
Read the Full Mastermind Moment