2017 PSDG: 2017 RBBC: What It Means for All 32 NFL Teams (Preview)
Chris Rito - 8/5/2017
Fundamental "FFL 101" lesson #1: The reason that fantasy football drafts are so top heavy in RBs is not merely because RBs generally are the most consistent performers or the highest scorers. In the current NFL, it is also because they are in the shortest supply relative to demand, since so many coaches are relying on a committee backfield rather than a solitary stud. Long gone are the days when Csonka-Kiick-Morris and Bleier-Harris were the exception – now they are the rule. Many teams now use some combination of a main running back, a sticky-handed guy as a 3rd-down back, a beefier short-yardage/goal line back, and a speedy "change-of-pace" RB. Simple math shows us that a 10-12 team fantasy league will have anywhere from 20-36 starters at RB, while the NFL has just a handful of guys that can be reasonably expected to carry the majority of the load...
This is a Premium FF Mastermind Article.
You must be logged in to view it.
Back to top of page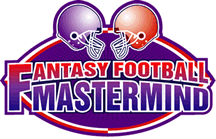 The Definitive Fantasy Information Service