2017 PSDG: Strength of Schedule 2017 – Masterminding Your Draft - The QBs (Preview)
John Cooney - 6/28/2017
Quarterbacks, wide receivers and tight ends also receive my specific and individualized attention. Wideouts and tight ends are broken into two separate SOS tables in the SOS-PASS breakdown. Football enthusiasts know all too well that a defensive secondary's main focus is on covering WRs. An accurate and focused SOS must take into consideration only performance results of pro defensive backfields against WRs only. Tight ends are most often matched up against linebackers, or LBs with safety help, and an individual SOS for that position is key in creating an effective draft board when that position is a fantasy league mandate. Both the WR and TE SOS, like the RBs SOS, eschew total receiving yards and yards per game against. Yards per reception allowed, touchdowns surrendered, total receptions and pass plays of 20+ yards given up are the keys in determining the baseline SOS...
This is a Premium FF Mastermind Article.
You must be logged in to view it.
Back to top of page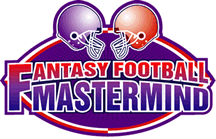 The Definitive Fantasy Information Service