2017 PSDG: Joltin' Juniors - Year Three WRs (Preview)
John Cooney - 6/28/2017
An NFL wide receiver entering his third pro season has long been a key indicator for potentially big jumps in production. Fantasy GMs have applied that theory as a means to get the jump on their competitors. The third-year theory still holds some fantasy football water, but with each dawn of new season young, skillful players are being thrust and/or rushed into starting gigs as the demands on head coaches to 'win now' grows. That impatience by coaches, NFL GMs and team owners has had an effect on the 'third year WR' theory as the number of true breakout candidates at the position is dwindling. Today, the 2nd year of a WR in the NFL comes with as much potential for explosive gains in statistics and offers a bit of a deeper pool of pass-catchers to target. Still, many fanballers go with what has worked in the past...
This is a Premium FF Mastermind Article.
You must be logged in to view it.
Back to top of page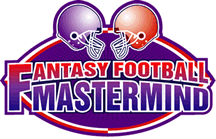 The Definitive Fantasy Information Service
Mastermind Moment
Free 2018 Pre-Season Draft Guide Preview
Friday, June 29th, 2018
Our patrons always ask for us to release a preview of our annual summer fantasy football blockbuster Pre-Season Draft Guide. Well, YOU asked for it, YOU got it!
Read the Full Mastermind Moment