2017 Rookie Draft Winners & Losers (Preview)
John Holler - 5/1/2017
It's difficult to project draft winners and losers a couple of days after the draft has completed. It's pretty well established that a draft isn't accurately graded until the offseason before the third year after. Who is viewed as a key player and who was seen as a wasted pick or an overinflated pick?
Many people have different takes on the process. If you have an affinity for a specific college conference – you saw a college player more than others in a live sense instead of highlight clips, you have stronger opinions.
These are ours:
WINNERS
CLEVELAND BROWNS – Not only did the Browns come away with the consensus to pick in the draft (DE Myles Garrett), but traded away the 12th pick in the draft to get a first-rounder in 2018 and...
This is a Premium FF Mastermind Article.
You must be logged in to view it.
Back to top of page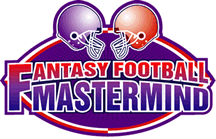 The Definitive Fantasy Information Service