May Short-Term/Long-Term Offensive Overall & Positional Rookie Rankings (Preview)
John Holler - 5/12/2017
The draft is over and the prospects we were looking at heading into the NFL have now been assigned teams. Many times it isn't how talented a kid is coming out of college, it's the opportunity he gets with the team that drafts him. Guys drafted to be backups often are. Guys pushed too hard to early often fail. Finding the mix in between is what makes fantasy stars that make a huge impact.
The Class of 2017 has been slotted and here's how we see them shaking out – both in the short-term and for dynasty owners who will be making a multi-year investment in players.
QUARTERBACK
1. Deshaun Watson, Houston – All the kid has done is win in college and he's going to a team that is playoff established and a QB away from being a legitimate Super...
This is a Premium FF Mastermind Article.
You must be logged in to view it.
Back to top of page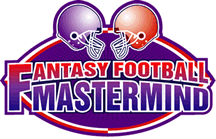 The Definitive Fantasy Information Service
Mastermind Moment
Eagles Sign LeGarrette Blount
Wednesday, May 17th, 2017
Michael Nazarek - 5/17/2017: The big hammer finally dropped for free-agent RB LeGarrette Blount when he decided to sign a one-year contract worth up to $2.8 million with the Philadelphia
Read the Full Mastermind Moment