2017 NFL Rookie Draft Review (Team-by-Team Fantasy Analysis) (Preview)
John Holler - 5/7/2017
Often times when it comes to fantasy position players, it is just as important as to what team you're drafted to as it is where you're drafted. If you're a wide receiver drafted to a team with horrible quarterbacks, it doesn't matter early on in your career how good you are if your QB is garbage. The same goes for running backs drafted by teams with brutal offensive lines – you can be great, but if defenders are consistently in the backfield when you get the ball, you will struggle.
Overall, however, barring injury, talent eventually wins out and players make their own path in the NFL. The following analysis is our team-by-team rookie fantasy takes for the Class of 2017...
Arizona Cardinals – The Cardinals added just two fantasy impact players. WR Chad Williams will have a chance to be a solid sleeper out of...
This is a Premium FF Mastermind Article.
You must be logged in to view it.
Back to top of page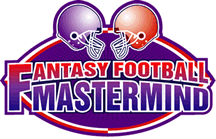 The Definitive Fantasy Information Service
Mastermind Moment
Eagles Sign LeGarrette Blount
Wednesday, May 17th, 2017
Michael Nazarek - 5/17/2017: The big hammer finally dropped for free-agent RB LeGarrette Blount when he decided to sign a one-year contract worth up to $2.8 million with the Philadelphia
Read the Full Mastermind Moment