2017 Mock Rookie Draft - Version IV (Rounds #1 & #2) (Preview)
John Holler - 4/25/2017
OVERVIEW: With the final hours counting down to the 2017 draft, players are moving in different directions – some for the better and some for the worse. As much as stock improvement has taken place in recent days for guys like Christian McCaffrey and Patrick Mahomes, diluted drug tests on prospective first-rounders Reuben Foster and Jabrill Peppers has made the muddy waters of projecting draft spots even more. We're trying to match players with teams based both on the "best athlete available" mantra as well as need, which is always in play on draft weekend. Here's how we see it shaking out.
FIRST ROUND
1. Cleveland – Myles Garrett, DE, Texas A&M. The Browns need a quarterback badly, but there simply isn't one that warrants selection at this spot. Garrett is a freakishly good athlete who can create a difference on the field from Day 1. He...
This is a Premium FF Mastermind Article.
You must be logged in to view it.
Back to top of page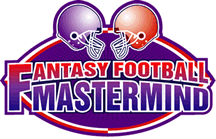 The Definitive Fantasy Information Service
Mastermind Moment
Eagles Sign LeGarrette Blount
Wednesday, May 17th, 2017
Michael Nazarek - 5/17/2017: The big hammer finally dropped for free-agent RB LeGarrette Blount when he decided to sign a one-year contract worth up to $2.8 million with the Philadelphia
Read the Full Mastermind Moment