2017 Rookie Draft War Rooms - Who Makes the Call... (Preview)
John Holler - 4/17/2017
Every team has a similar objective when it comes to drafting young talent, but how they go about differs from one team to the next. Some teams have a strong-willed owner who has invested heavily in the franchise and have a hand in personnel decisions. Other teams have a strong general manager who surrounds himself with a personnel department that breaks down the college talent. Other teams have a head coach who has earned the right – either with his current team or past success – to make the calls as to who he wants to add to his roster.
There are many similarities as to how teams conduct their business, but the variations are what makes some organizations consistently successful and others that struggle for long periods. Here is our look at how is making the final draft decisions for the NFL's 32 teams.
&nbsp...
This is a Premium FF Mastermind Article.
You must be logged in to view it.
Back to top of page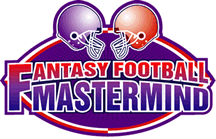 The Definitive Fantasy Information Service
Mastermind Moment
Eagles Sign LeGarrette Blount
Wednesday, May 17th, 2017
Michael Nazarek - 5/17/2017: The big hammer finally dropped for free-agent RB LeGarrette Blount when he decided to sign a one-year contract worth up to $2.8 million with the Philadelphia
Read the Full Mastermind Moment