2017 Mock Rookie Draft - Version III (Preview)
John Holler - 4/11/2017
OVERVIEW: The draft is just a couple of weeks away and teams are hunkering down in their war room bunkers to set their entire focus on the draft class that will be selected, analyzed and picked apart over draft weekend. While the free agent signings have slowed to a drip, the NFL has its showcase event of young talent being their only priority. Here's our latest take on who we think ends up where on opening night of the draft.
1. Cleveland - Myles Garrett, DE, Texas A&M. Find an alternate solution. He didn't have to work out at his Pro Day and he did - and stole the show! The analytics gurus in Cleveland should understand the value Garrett has to blood-thirsty others. Reality says trading Garrett would reap such a bountiful draft harvest that the Browns would be on clock more times than not in...
This is a Premium FF Mastermind Article.
You must be logged in to view it.
Back to top of page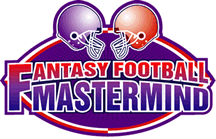 The Definitive Fantasy Information Service
Mastermind Moment
2023 Madness NFL Rookie Draft Reference Guide
Monday, April 24th, 2023
Premium Pro Bowl and Super Bowl Package Subscribers take note. The time has come. The 2023 Madness NFL Rookie Draft Reference Guide has been released for your viewing pleasure. This
Read the Full Mastermind Moment