2017 March Rookie Player Rankings (Preview)
John Holler - 3/14/2017
The Combine is over, free agency is in full swing and teams are isolating their primary areas of need - both short-term and long-term. Players are starting to get the combination of their production on the field and their raw athletic data shown at the Combine (as well as potential bad medical results) that can greatly alter a team's perception of what these players can do.
Given that information, there has been quite a bit of jockeying up and down for positioning among the top prospects. Some players have vaulted from mid-Day 2 to first-round consideration, while others are riding a tsunami of bad buzz down draft boards. Here is where we project players landing as the Pro Day season kicks into high gear and players get their last chance to make their case for being as highly coveted as possible.
QUARTERBACK
1. Deshaun Watson, Clemson
2...
This is a Premium FF Mastermind Article.
You must be logged in to view it.
Back to top of page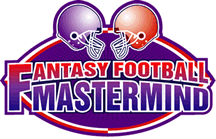 The Definitive Fantasy Information Service
Mastermind Moment
NFL Game Matchup Analysis: The Real Work Begins!
Saturday, September 9th, 2017
OK, the big day has come and gone; your draft is over. You assembled an impressive roster thanks to a lot of time, energy and research dedicated to that task.
Read the Full Mastermind Moment