2017 Combine: Winners & Losers (Preview)
John Holler - 3/8/2017
At every Combine, two, three or four years of positive momentum can be squashed by bad workouts, injuries and/or rubbing coaches the wrong way in team interviews. Some small school players rise sharply with a strong workout and a lot of players viewed as being slotted in a round can make a big jump.
With four days of workouts in the books, here are the players we saw as the biggest winners who helped their stock and losers who did themselves no favors.
WINNERS
Myles Garrett, DE, Texas A&M. To the surprise of few, Garrett tore up the Combine. In the annual climb of quarterbacks leading up to draft weekend, Garrett made his claim to the top spot and, after an insanely impressive Combine performance that blew away his D-line competition, he is locked and cocked for the top spot, whether Cleveland makes...
This is a Premium FF Mastermind Article.
You must be logged in to view it.
Back to top of page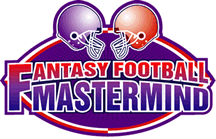 The Definitive Fantasy Information Service
Mastermind Moment
NFL Game Matchup Analysis: The Real Work Begins!
Saturday, September 9th, 2017
OK, the big day has come and gone; your draft is over. You assembled an impressive roster thanks to a lot of time, energy and research dedicated to that task.
Read the Full Mastermind Moment