Preliminary Top 12 Fantasy Player Rankings for 2017 (Non-PPR & PPR) (Preview)
Michael Nazarek - 2/8/2017
Fantasy Index Ask the Experts - What is your top 12 fantasy player rankings for 2017? With free agency approaching, things could change a lot by the time I release my first comprehensive rankings later this spring. Below, I'm offering you my top 12 in both PPR and Non-PPR leagues for 2017 as of early-February. Enjoy!
Top 12 for PPR (Points-Per-Reception) Leagues:
1) RB David Johnson, ARZ - Until he got hurt in week #17, he was dominating both on the ground and via the air, and nothing will change with both Palmer & Fitzgerald expected to play at least one more season.
2) RB Le'Veon Bell, PIT - He rivaled Johnson in terms of consistency, and assuming his groin injury will be fully healed by training camp, Bell is right there with Johnson, especially in PPR leagues.
This is a Premium FF Mastermind Article.
You must be logged in to view it.
Back to top of page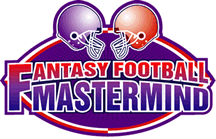 The Definitive Fantasy Information Service
Mastermind Moment
2023 Madness NFL Rookie Draft Reference Guide
Monday, April 24th, 2023
Premium Pro Bowl and Super Bowl Package Subscribers take note. The time has come. The 2023 Madness NFL Rookie Draft Reference Guide has been released for your viewing pleasure. This
Read the Full Mastermind Moment