2016 NFL Playoff Fantasy Rankings Report (Preview)
By John Holler & Michael Nazarek
When you conduct a typical fantasy draft or auction, you're looking for full-season production out of your picks. When it comes to playoff fantasy drafts, it becomes a completely different game.
Two teams are going to play three games and perhaps someone could play four. For a team that gets bounced in the wild card round, you only get one week of production out of him. As a result values are skewed.
Projecting what teams you believe are going to survive and advance and who is one-and-done is what makes these drafts. If the Giants make their typical Super Bowl run as they have the last two times as a wild card, you inflate their players.
For the purposes of this draft board, we are projecting how many games a team is likely to play. While we don't give players who are backups...
This is a Premium FF Mastermind Article.
You must be logged in to view it.
Back to top of page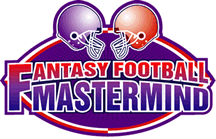 The Definitive Fantasy Information Service
Mastermind Moment
Week #10: Players to Acquire & Players to Trade
Saturday, November 11th, 2017
FFMastermind.com's Michael Nazarek Tells You Who You Should Acquire & Who You Should Trade in Your Fantasy League This Week... [Acquiring & Trading Targets] <=== FREE VIEWING
Read the Full Mastermind Moment