TESTIMONIALS
Working Doubletime (2011)

To All Fantasy Football Players,
I've been playing fantasy football for more than a decade, but like most players in 2011, I waited to see if the nasty lockout would end before considering any kind of premium purchase anywhere. When the hammer dropped, I scanned the web to a bit of "extra" help. I found some of the bigger sites easily (Football****.com, TheH*****.com, etc.), but had used them before with mixed effects. Then I found Mastermind and was curious if their claims of dominating your fantasy football opponents if you subscribed were true. I took a chance and subscribed and watched the entire summer unfold. Let me tell you something. I've NEVER seen a fantasy football service work as hard as Mike and his crew worked during a time when not only training camp was going on, but free agency was just hitting it's stride. It was clear this site was serious about WORKING DOUBLETIME to get the job done to help their subscribers.
They not only kept me up to date on signings, but also quickly produced a top-notch fantasy football draft guide with comprehensive rankings and player projections. One of the best tools I've ever used during my draft was their EDM. This software made drafting a dominating team very easy to do. Now, I'm not here to tell you my team was perfect, but using FFMastermind during the season was a godsend. Let's just say when RB Jamaal Charles went down, I was glad I followed Mike's advice and drafted RB Fred Jackson as my #3 RB. I also stashed his teammate RB C.J. Spiller on my bench, as I need him down the stretch after Jackson's injury to win my title. Yes, I won the whole thing! There were other critical pieces of advice that Mike gave me via e-mail that also helped, but the point I want to get across to anyone considering a premium purchase is this... Mike and his staff will do just about anything to help you win. They can't promise you a title, but as Mike says, he and his crew will work harder than anyone out there to get you the help you need. As a fantasy football player, that's all I can ask from a qualified expert. Oh, and the fact that he's been doing this for a living since 1996 doesn't hurt either. Thanks again, Mike, for all your hard work! As you can tell by my order last night, I'm ALL IN for 2012!

Regards,
Frank Kendelson
Back to top of page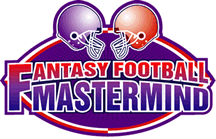 The Definitive Fantasy Information Service