TESTIMONIALS
A Millennial Who Won (2017)

To Other Millennial Fantasy Football Players,
I never expected to be writing this note about this fantasy football service, but what happened to me in 2017 can't be ignored. My uncle got me into fantasy football a few years back, but I always struggled to put together a winning team. I guess you could say he took pity on me and gave me a tip. He says he's been buying the fantasy football services of Mike at FFMastermind.com for years, and most of the time he does well. In fact, he won the league in 2016 and has won a few more titles over the decade or so that he's been playing. Well, I scoffed at buying a "service" to help me win a game. You know what my uncle did? He bought the Super Bowl Package for me the summer of 2017 to prove his point. I'm what many call a "millennial", so with a lot of free information and rankings available online, there was no way I would have made this purchase if my uncle hadn't done it for me.
Well... after checking out the Draft Guide, I had to admit there was some solid advice in it, and I slowly over the summer began to take notice of all the premium releases that the site offered. I guess you could say that Mike and his crew helped me do my research and I learned a lot. In fact, the team I drafted last year began the season 4-0, and before I knew it, I had made my first playoffs! Now, I put more time into it, and made sure to take advantage of the Weekly Newsletters as soon as the sections were first released during the week. When I had a question, Mike promptly answered it via e-mail and pushed me to read everything on the site, even the free stuff. It became a daily ritual. What do you think happened? I made the finals and played against my uncle! And I beat him for my first ever title! After years of losing, I had finally turned a corner. Of course, I renewed immediately when the site began taking renewals and took full advantage of the reduced cost. But you know what? Whether the cost was $40, $50 or even close to $60, it's well worth it! The bottom line here is that if you are a millennial and you don't buy this service simply because you don't believe any service for fantasy football is worth paying for, you are just plain WRONG. I don't mean to preach, but I really must thank my uncle for introducing me to Mike and his staff as well as introducing me to winning fantasy football. And winning is all that matters when you play this game, right?

Regards,
Tim P. - 29 Years Old
Back to top of page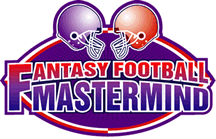 The Definitive Fantasy Information Service