TESTIMONIALS
Magic Act (2010)

To Anyone Who Loves to Play Fantasy Football,
I'm a veteran of fantasy football. I mean I've been around a long time, going back to the 80's. So when I found FFMastermind.com, I thought it might be cool to subscribe just because the owner of the site had been playing as long as I have. But what this site did for me in 2010 was just plain MAGIC. Really, I'm not kidding you, Mike Nazarek and his staff are a bunch of magicians. They produced the best MAGIC ACT that I've ever seen! And they did it over the entire season, with many e-mails and a few phone calls from myself.
Let me explain. I play with a very knowledgeable group of fantasy players. And we draft earlier than most, so when I asked Mike what he thought of the Texans running game in JULY of last year, I was shocked to hear that Steve Slaton might not be the man anymore. Sure, I knew the team had drafted Ben Tate, but what Mike told me was eye-opening. He said... "Don't be shocked if Arian Foster takes over as the lead back and keeps the job all to himself." Anyway, it was just food for thought at that time, but when it was my turn to draft in the 13th round, I actually called Mike on my cel phone DURING my draft! Amazingly, he actually answered the phone on a Sunday night! I told him I needed another back for depth and who does he tell me to take? Yup, Mr. Foster. So, I didn't hesitate and yelled his name out to the commish right there. I got some interesting looks on that one. Well, needless to say, I had my #1 STUD RB in the 13th round and my running back issues were a thing of the past.
But that wasn't all. Mike also told me to pick up Brandon LLoyd off the waiver wire early in the season. And he also told me Jacob Tamme was the replacement for injured Dallas Clark as soon as Clark went down. So I got him too. Needless to say, I had a magical season and won it all! Oh, did I happen to say that I play in a local high stakes league? Yup, the entry fee alone is more than $1,000. So, I pocketed more than $10K with Mike and his staff's help! So even with the threat of a lockout, I didn't hesitate to toss $50 to Mike and crew for 2011, knowing that even if there wasn't any football, he's have my back when there was. It's the easiest decision (and smartest) I've ever made! Thanks again, Mike, for all the help and advice. I won't play fantasy football again without your help!

Regards,
Barry P.
Back to top of page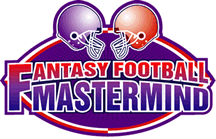 The Definitive Fantasy Information Service