TESTIMONIALS
Keep Coming Back (2013)

To Anyone Interested,
I'd like to tell you about my experiences at FFMastermind.com. I go back quite a way with this site, back to the 90's. I got what I consider good advice, help, and service the first few years I used them. That said, they know they aren't the cheapest service around. I knew that too. So, I left for a while. And my performance in my fantasy leagues dropped. So, I came back for another go around and won a few more titles. I got full of myself, and left again. And I started to struggle again, using other, more realistically priced services, or what I thought was reasonable. I got tired of not getting the service I wanted for less money, so I bit the bullet and paid more to come back to FFMastermind.com, again. This time, I'm playing it smart. Yes, they may cost more, but the bottom line is they are worth it. Besides, all we are talking here is about the price of a pizza when compared to other sites like Guru or The Huddle, for an entire YEAR of service. Mike, you and your crew have won me over, this time for good! I keep ponying up the cash and I keep winning. I know the winning forumla, and refuse to deviate from it anymore. Yup, my smarts have finally overtaken my stubborn needs to spend the least amount of cash to try to win. 2014 will be my 13th year with your services, the last nine consecutively. I'm now proud to pay up and be part of the FFMastermind.com community!

Regards,
Jack Fields
Back to top of page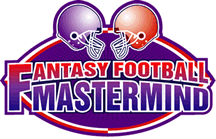 The Definitive Fantasy Information Service
Mastermind Moment
UPDATED: NFL Game Matchup Analysis & Mastermind Moments!
Sunday, September 13th, 2020
OK, the big day has come and gone; your draft is over. You assembled an impressive roster thanks to a lot of time, energy and research dedicated to that task.
Read the Full Mastermind Moment