TESTIMONIALS
Taking It the Distance (2009)

To All Serious Fantasy Football Players,
I've been around. I've played fantasy football for quite a bit, and subscribed to other fantasy football information services, but wanted to try something new. That's when I reached out to FFMastermind.com and Mike Nazarek last summer. I talked with Mike over the phone for quite a while, telling him about the crazy rules my league has, wanting to know if he could provide the help I needed to actually win, and not just compete. He told me about the Masters List and the Draft Guide, and he also promised to create a special cheat sheet based upon my rules. We play ALL THE WAY THRU THE SUPER BOWL. And we get to start an extra player if they are playing on Monday night, so needless to say, this wasn't an easy task.
Anyway, Mike sent me a great cheatsheet with comments on each player just before my draft. I guess he had a crystal ball because he really pushed me into taking a LOT of COLTS players. Needless to say, I not only jumped out to a big lead early in the season, but won the regular season going away. We ended up TAKING IT THE DISTANCE, as I won the league by a record margin in the NFL playoffs!
BTW, this was a big money league, so the winner (myself) took home nearly $2000! And without any prompting, I promised Mike I'd send him a good share of it. Well, once I got paid in the springtime, I cut Mike a check for $250! I gotta tell you. This was the most fun I've ever had in a fantasy league, and anytime I had questions throughout the season, Mike was right there to answer them. Mike, YOU'RE THE MAN!
I've already re-upped for the Super Bowl package and look forward to dominating with your help again in 2010! Anyone who balks at the $50 price just isn't willing to do what it takes to get the RIGHT ADVICE to win it all!

Regards,
Joseph D.
Back to top of page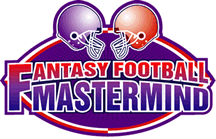 The Definitive Fantasy Information Service