2020 Madness Rookie Draft Reference Guide: Free Sneak Peek
by Draft Specialist John Holler
RELEASED: 4/13/2020

Welcome to a special SNEAK PEEK into Mastermind's Madness: 2020 NFL Rookie Draft Reference Guide. Many people have asked us to see a few samples of our site's primary spring premium product, so we have decided to oblige the masses with a quick look into a key section of this 75+ page guide. Below you will find the complete Quarterback Rankings Profiles section of the 2020 Rookie Draft Reference Guide. We remind everyone the players profiles are only a PARTIAL list of all players included in the guide. Rookie Draft Specialist John Holler covers 171 initial player profiles within this cut of this guide. If you like what you see and want to see more, don't hesitate to review what Mastermind's Madness is all about in our Premium Subscription Center or ORDER OUR PRO BOWL OR SUPER BOWL PACKAGE NOW

Click below to check out ALL 12 Rookie Quarterback Player Profiles!
*2020 Madness Rookie Draft Reference Guide: Quarterbacks - 4/13/2020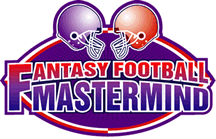 The Definitive Fantasy Information Service
Mastermind Moment
UPDATED: NFL Game Matchup Analysis & Mastermind Moments!
Sunday, September 13th, 2020
OK, the big day has come and gone; your draft is over. You assembled an impressive roster thanks to a lot of time, energy and research dedicated to that task.
Read the Full Mastermind Moment