Week #12: Final Fantasy Thoughts (Preview)
Michael Nazarek - 11/25/2022
FFMastermind.com Weekly Newsletter
FINAL FANTASY THOUGHTS
Weekly Newsletter: Volume XXVII, Issue 12
November 25, 2022
________________________________________________________________________
In case you didn't get the e-mail that was sent out last night, I'd like to take this time to inform you that today (BLACK FRIDAY) marks the start of our Rock Bottom Discount Renewal Period. Once again, we are offering the chance for current subscribers to buy our Pro Bowl or Super Bowl package for 2023 at the ultimate discount. The Pro Bowl package is set at the low price of just $37.95, and we've set the Super Bowl package at an ultimate low of just $41.95! As a reminder, we throw in our Executive Draft Master (EDM) software in our Super Bowl package. It retails for $18.95 each summer, but...
This is a Premium FF Mastermind Article.
You must be logged in to view it.
Back to top of page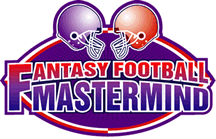 The Definitive Fantasy Information Service