Week #12: Early-Week Picks to Click/Flick (Preview)
Michael Nazarek - 11/23/2020
This section expresses my gut feeling with regard to which NFL players I feel will have good days and those that will have bad ones. I remind everyone to take these picks with a grain of salt. They are certainly NOT meant to override our weekly rankings! They are based upon past performances as well as this week's match-up. Last week, click QB Justin Herbert lit up the Jets and took firm control of the Offensive Rookie of the Year race. If you picked up Herbert (I did in one league), pat yourself on the back! He's not only leading fantasy owners towards a championship, but he's made WR Keenan Allen better than anyone thought he could be as an elite fantasy wide receiver! This week, look for the Chargers and Bills to produce a high scoring game, keeping QB Justin Herbert and TE Hunter Henry clicks! On the...
This is a Premium FF Mastermind Article.
You must be logged in to view it.
Back to top of page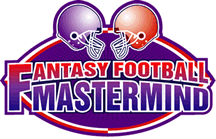 The Definitive Fantasy Information Service