2020 Combine: Winners & Losers (Preview)
John Holler - 3/4/2020
The annual Scouting Combine in Indianapolis is valuable to the NFL for many reasons – not the least of which being interviews to catch on to a player's personality and medical checks to determine whether a player's injury history is enough to get him dropped off of some teams' draft board.
The Underwear Olympics is also about players showing off their athleticism in a series of events that show off their strengths and weaknesses in many area. Run a slow 40-yard dash as a cornerback or wide receiver and it's death. A quarterback who sails passes sees his stock crash. A heavy-footed college left tackle has to rethink his future.
The Combine is just one facet of the pre-draft process, but it is an important one. These are the players who saw their respective stocks rise and those who have to make up for a...
This is a Premium FF Mastermind Article.
You must be logged in to view it.
Back to top of page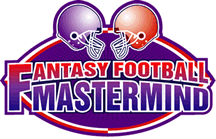 The Definitive Fantasy Information Service
Mastermind Moment
2020 Madness NFL Rookie Draft Reference Guide
Monday, April 13th, 2020
Premium Pro Bowl and Super Bowl Package Subscribers take note. The time has come. The 2020 Madness NFL Rookie Draft Reference Guide has been released for your viewing pleasure. This
Read the Full Mastermind Moment