2019 Mock Rookie Draft - Version II (Preview)
John Holler - 3/14/2019
Once free agency opens every year, the claims that teams don't draft for need becomes nearly moot. Jacksonville isn't going to draft a quarterback in the first round after signing Nick Foles. The Raiders won't draft a wide receiver after breaking the bank for Antonio Brown and Tyrell Williams. While free agency is only a couple days old, a lot of landscape has changed and glaring needs have been addressed.
A lot more is going to change in the comings days and weeks leading up to the draft, but here is how we see the first round playing out given the most recent seismic shift in the NFL.
1. Arizona – Kyler Murray, QB, Oklahoma. I hate to be drinking the Kool Aid on this pick, because I have several defensive players rated higher, but this appears to be a self-fulfilling prophecy that Murray is going...
This is a Premium FF Mastermind Article.
You must be logged in to view it.
Back to top of page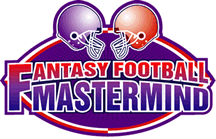 The Definitive Fantasy Information Service
Mastermind Moment
2020 Madness NFL Rookie Draft Reference Guide
Monday, April 13th, 2020
Premium Pro Bowl and Super Bowl Package Subscribers take note. The time has come. The 2020 Madness NFL Rookie Draft Reference Guide has been released for your viewing pleasure. This
Read the Full Mastermind Moment