2019 Mock Rookie Draft - Version I (Preview)
John Holler - 2/15/2019
In our first incarnation of our annual mock draft, we take a look pre-free agency and the Combine at what organizations have from their most obvious needs and the talent available that could be the franchise cornerstones of the future from Picks Nos. 1-32.
The thing to take note of early in the draft is that the Class of 2019 is dominated by defense. A case can be made that there is only one quarterback that deserves to be taken in the top 10 picks. No wide receiver may got until after the top 20 and, as things currently stand, we don't have a running back going in the first round.
The NFL is an offense-driven league, but, when it comes to the top players in the 2019 draft, defense is going to rule the day and it will take impressive offensive Combine showings to...
This is a Premium FF Mastermind Article.
You must be logged in to view it.
Back to top of page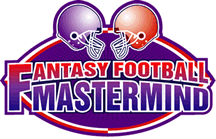 The Definitive Fantasy Information Service
Mastermind Moment
2020 Madness NFL Rookie Draft Reference Guide
Monday, April 13th, 2020
Premium Pro Bowl and Super Bowl Package Subscribers take note. The time has come. The 2020 Madness NFL Rookie Draft Reference Guide has been released for your viewing pleasure. This
Read the Full Mastermind Moment